Our Capabilities
Geo Lab continues to add technology, capabilities and experience to provide solutions for our customers. Whether sampling, monitoring, injection or system installation, we not only have the capability but the experience to make a difficult field project come off on time and within budget. Download our
Statement of Qualifications.
DPT
This is where we started and continue to serve our customer's needs. 'Direct Push Technology' (DPT) still provides a low impact, no IDW, cost effective methodology for sampling soil, water and vapor on site. Geo Lab provides truck and track carriers to allow access to open and 'difficult' to access sites.
Soil Sampling (using 'Macro-core' or dual tube techniques)
Water sampling (temporary wells and discreet sampling)
Vapor Sampling
Piezometer installation
Small diameter monitoring well installation (3/4" to 1" pre-packs)
Injection point or well installation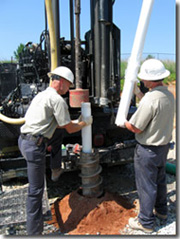 HSA
The vast majority of monitoring well installation is still completed using 'Hollow Stem Augers' (HSA). This tried and true technology enables high quality well installation by providing a temporary casing through which well materials can be accurately placed at depth along with providing the capability to characterize soil layers and accurately detect water level during drilling operations.
Monitoring well installation
Injection well installation
Sparge well installation
Remediation system point installation
Vac point installation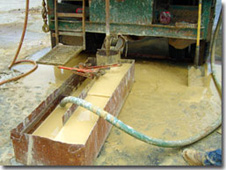 Mud Rotary
In cases where litohology is not stable, there is a need to install a temporary barrier for intensely saturated zones and areas where there are underground 'flowing' zones. When this is a requirement, Geo Lab recommends mud rotary drilling where a drilling fluid or slurry is used to stabilize the borehole wall and move cuttings to the surface. This technology is ideally applied to the installation of deep wells and multiple cased wells in unconsolidated and saturated formations. Applications are similar to HSA and DTH.

Monitoring well installation
Injection well installation
Sparge well installation
Remediation system point installation
Vac point installation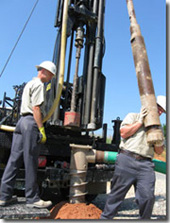 DTH - Air Hammer
Air Hammer is the solution to HSA refusal, when competent rock halts the process of well installation using traditional methods. DTH – Air Hammer is a cost effective solution providing rapid tool string advancement for instances where minor or significant rock penetration is required and indications of rock lithology are not required.
Type II monitoring wells with 'rock sockets'
Type III wells into a water bearing fracture zone
Air sparge wells
Discreet water sampling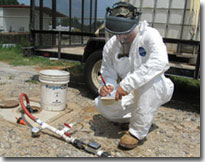 Injection
For more than a decade, Geo Lab has developed and implemented in-situ injection systems for successful remediation of dozens of sites. Our extensive experience involves subsurface application of various chemical and biological injection materials to reduce contaminant levels by means of Chemical Oxidation, Reductive Dechlorination and Bioremediation. Application involves pressurized injection through either temporary Direct-Push points or semi-permanent injection wells. Although Geo Lab specializes in material application, we are available to assist in the design process, and assist with the selection of the most appropriate injection material, given historical site data and cleanup goals. We then tailor an application method that best suits the site lithology and selected material, and successfully meets or exceeds targeted goals.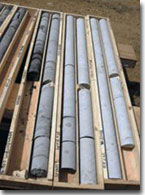 Rock Coring
While DTH provides a very rapid tool string advancement, some jobs require information on subsurface rock characterization

and fracture zones. In those instances, coring tools are used to both penetrate the rock and recover rock cores to gather that information. There are other instances where coring might be preferred.