Equipment
Environmental Drilling | Geotechnical Drilling | Remediation Services
CME-55
The workhorse of the HSA market, the CME-55 has capabilities that get the job done in an efficient and cost effective manner. The hydraulic feed and retract system provides 28,275 lbs. [12,826 kg] of retract force and 18,650 lbs. [8,460 kg] of down pressure. The 72 inch [183 cm] stroke, hydraulic vertical drive system has no chains or cables which can stretch. It gives you precise control of force on the drilling tools. From 2.25" HSA to 10.25" HSA, the CME can get the job done. Both of our CME-55 rigs have 140# automatic drop hammers for SPT. Visit the CME site for more detailed information.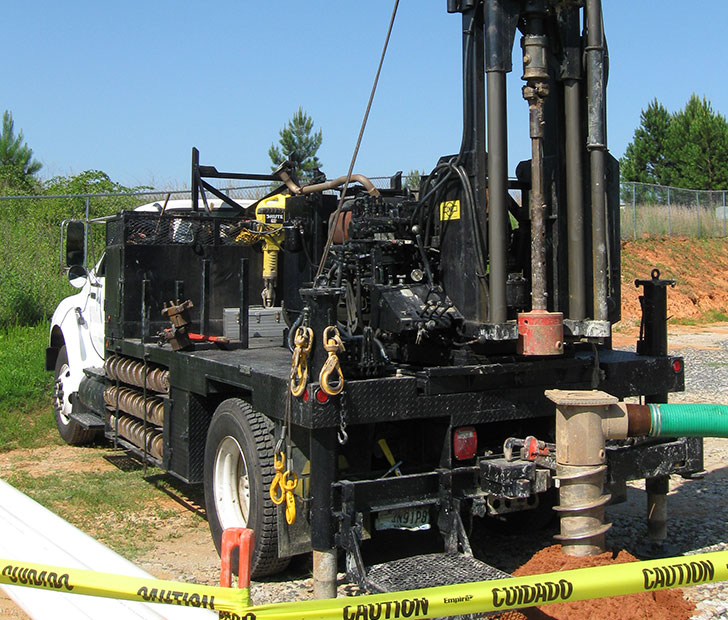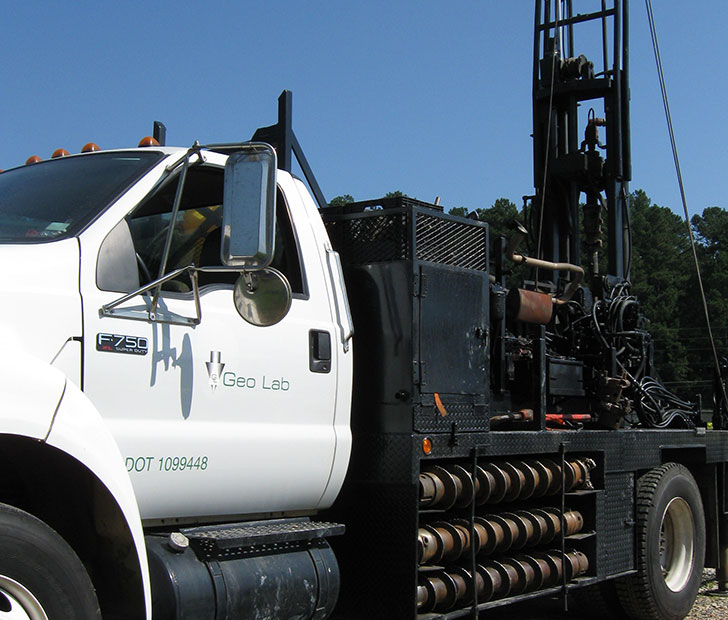 ---
7822
The Geoprobe® Model 7822DT is a high-capacity direct push machine with a narrow platform for limited access areas and a sufficient stroke for added work space under the hammer.
Features and capabilities can be obtained regarding this system by visiting the Geoprobe web site.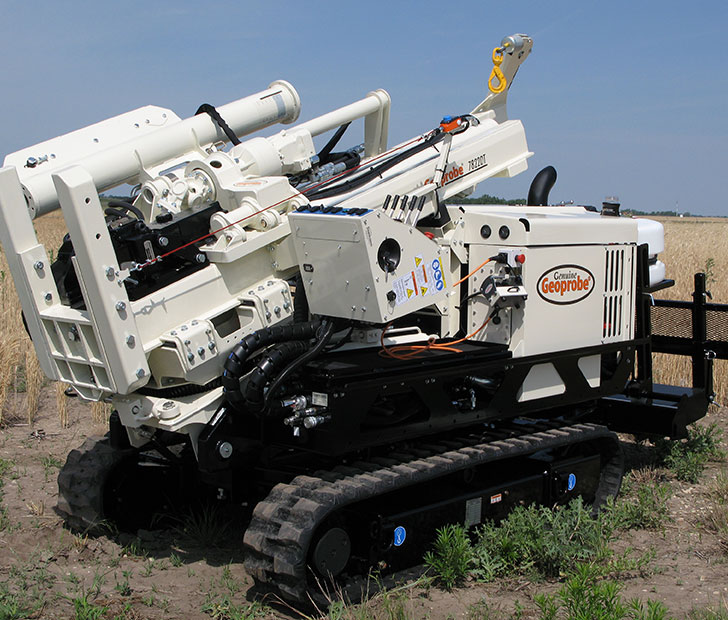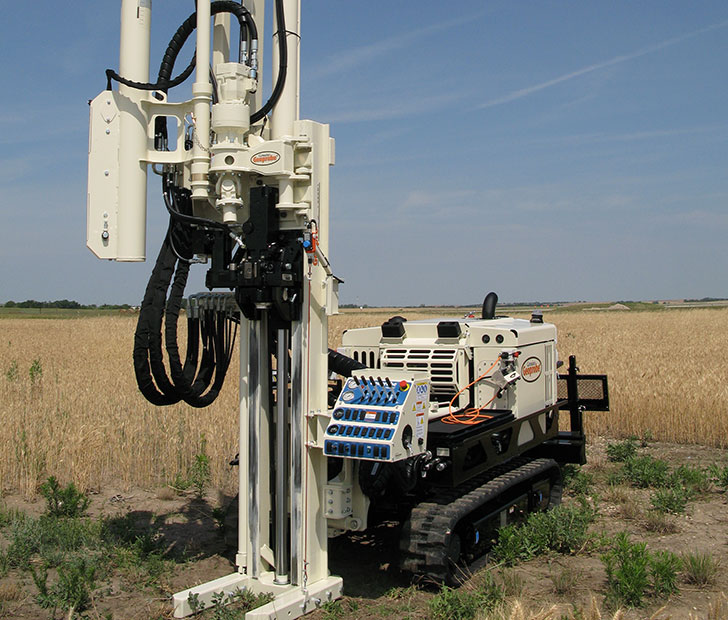 ---
6620
Wider tracks and a heavy-duty undercarriage provide the foundation for the Model 6620DT's robust design. The stronger, wider undercarriage allows this direct push machine to be used on concrete or pavement, and enables the machine to readily negotiate in tight, confining work areas and on off-road, rugged terrain.
The machine has 12-inch tracks compared to 9.25-inch tracks on the 6610. The overall width of the machine has increased from 48 to 60 inches providing a more stable base for both probing and drilling operations. Visit the Geoprobe website for more information.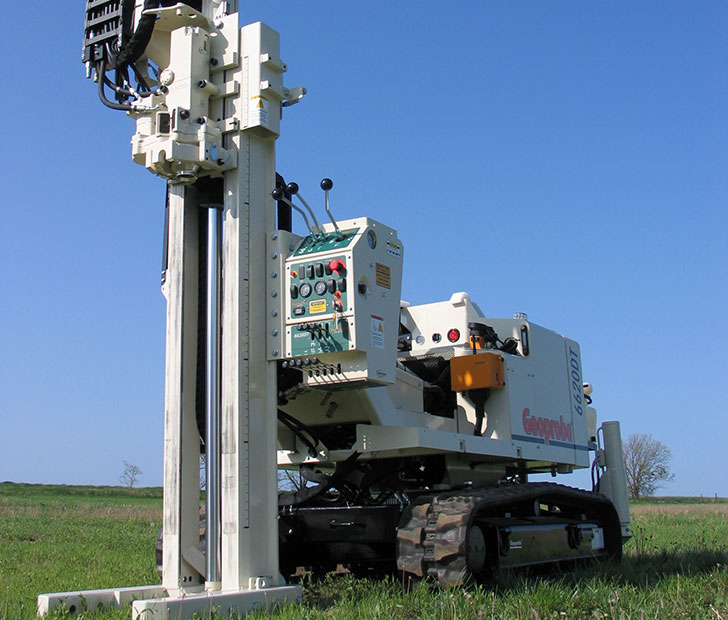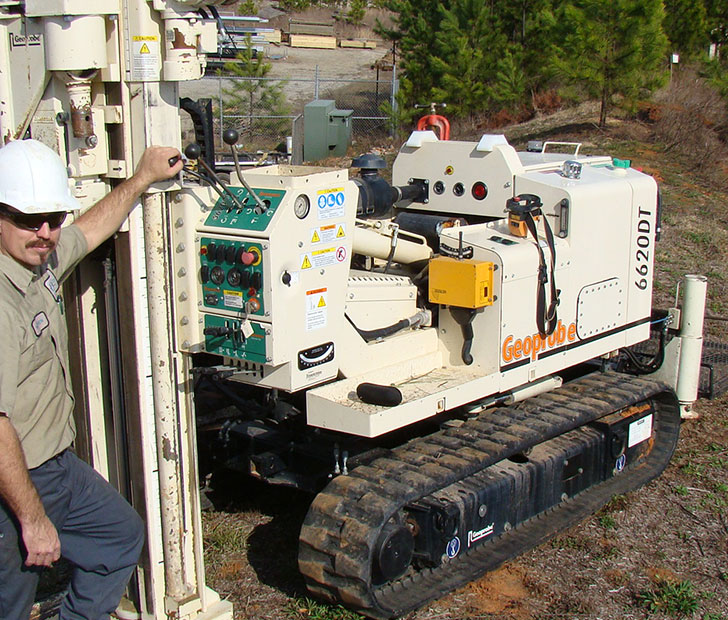 ---
6610
The compact size of the Model 6610DT direct push machine gets you in to confined spaces (12.5' overhead operating clearance required) to get the work done. Since the weight of the unit is evenly distributed over both tracks, the Model 6610DT can easily maneuver through shallow water, soft sands, or muddy fields while static weight is more than enough to get to required depth.
For more detailed information, visit the Geoprobe website.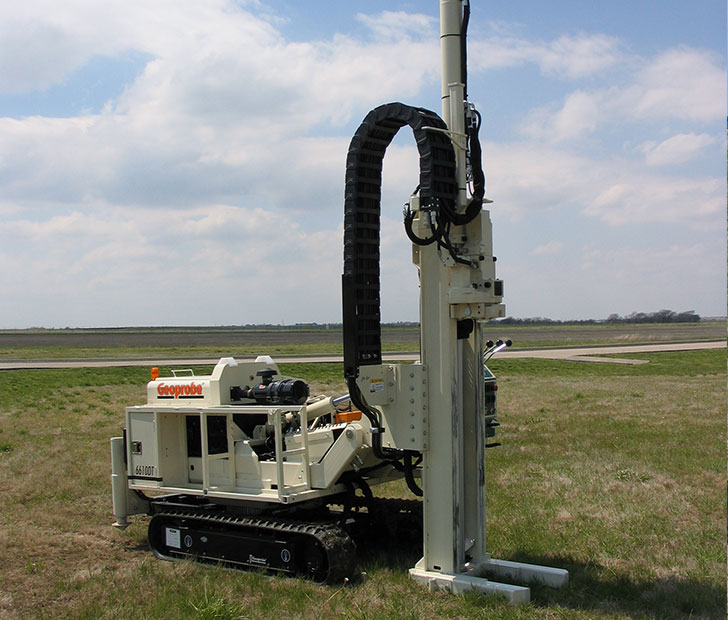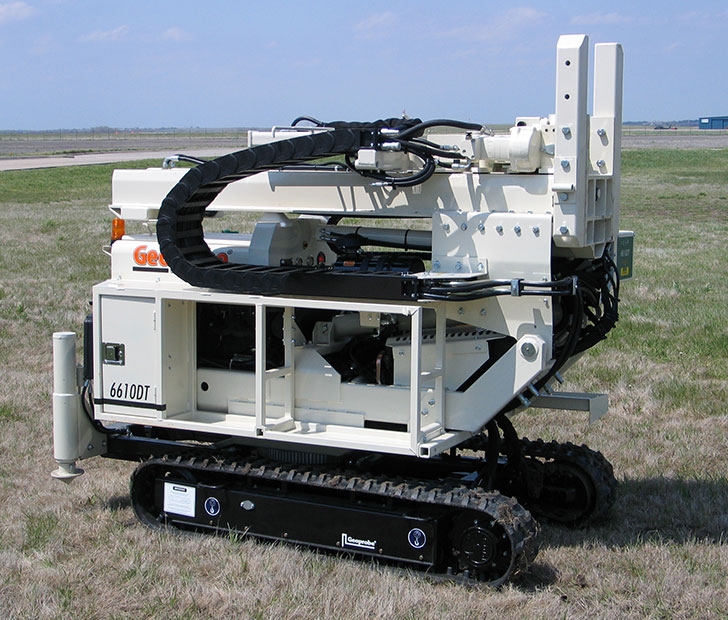 ---
66DT
The compact size of the 66DT gets you in to confined spaces to get the work done. Because the weight of the unit is evenly distributed over both tracks, the 66DT can easily maneuver through shallow water, soft sands, or muddy fields. But its convenient structure doesn't sacrifice strength...the 66DT provides 42,000 pounds of pull.
For more detailed information, visit the Geoprobe website.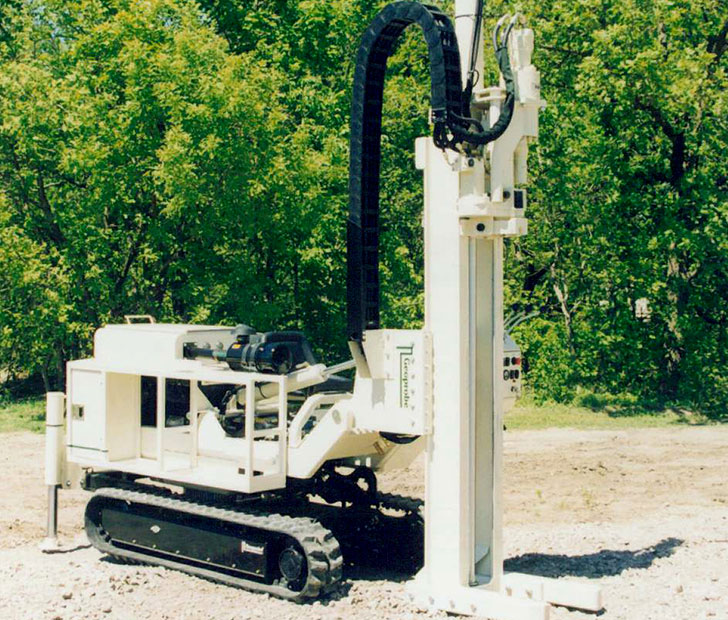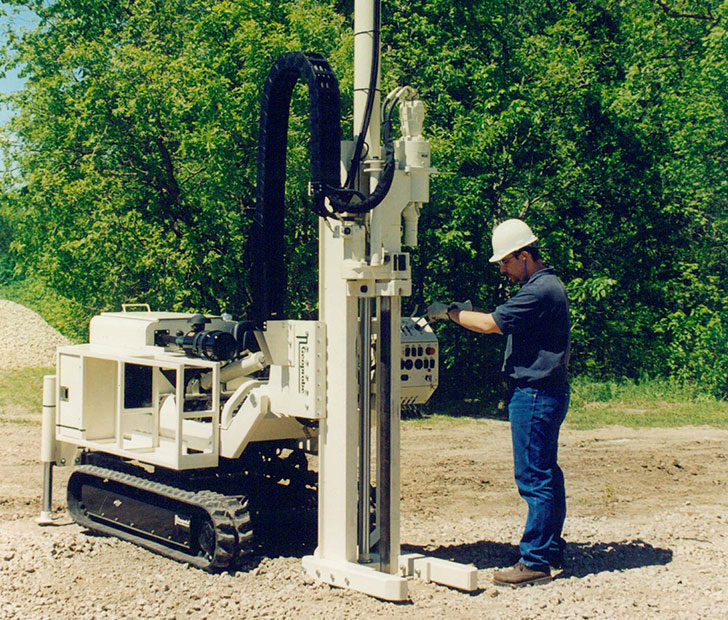 ---
6600
Switch from direct push operations to hollow stem augering in a couple of minutes to ensure depth attainment in difficult lithology. The Model 6600 features a BP49 Power Unit which supplies all the hydraulic and electrical power needed for operating the probe unit. Integral to the BP49 Power Unit is a dependable 4-cylinder 54 HP Kubota turbo diesel engine.
Other features and capabilities can be obtained regarding this system by visiting the Geoprobe web site.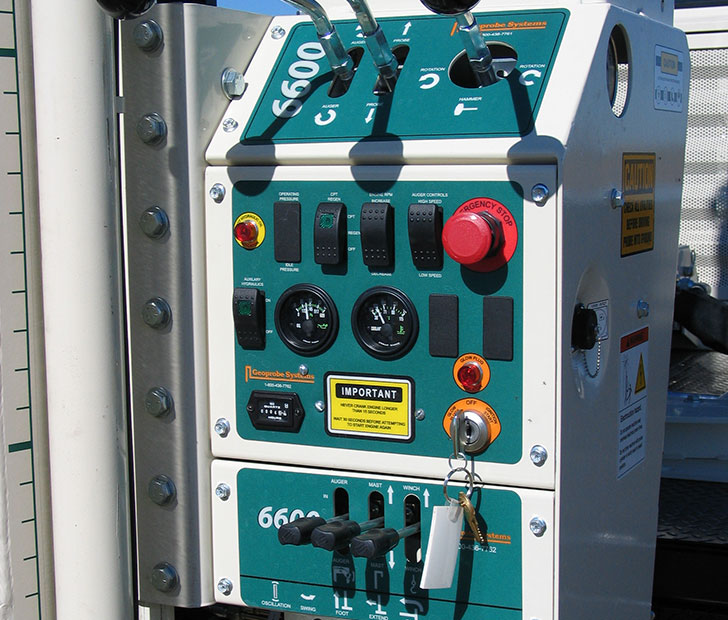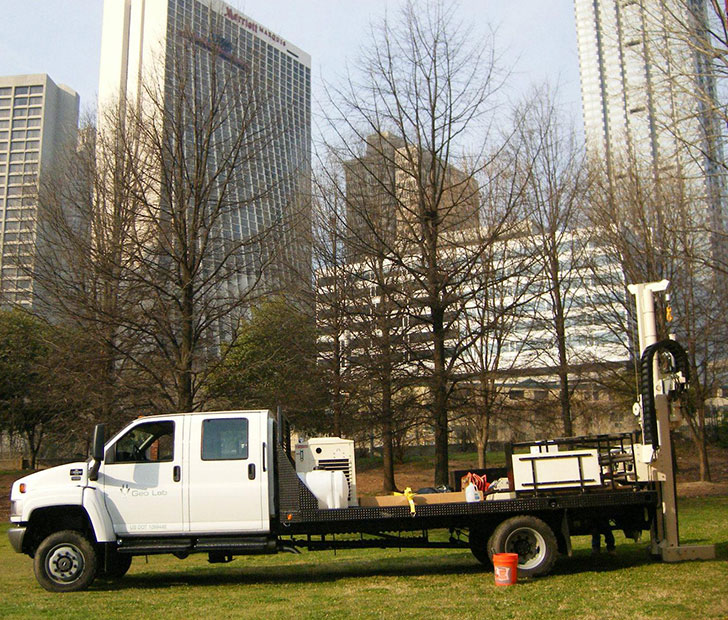 ---
GH42
In response to numerous requests from our valued customers, we have added the GH42 portable unit to our fleet of Geoprobe rigs. On occasion, sampling is required at indoor boring locations to properly investigate subsurface contamination within the footprint of a building. With this portable unit we have the ability to maneuver through small spaces, operate without generating harmful fumes, and operate within the confines of low ceilings. One of the greatest benefits of this unit is the combination of small size and powerful downhole rod advancement.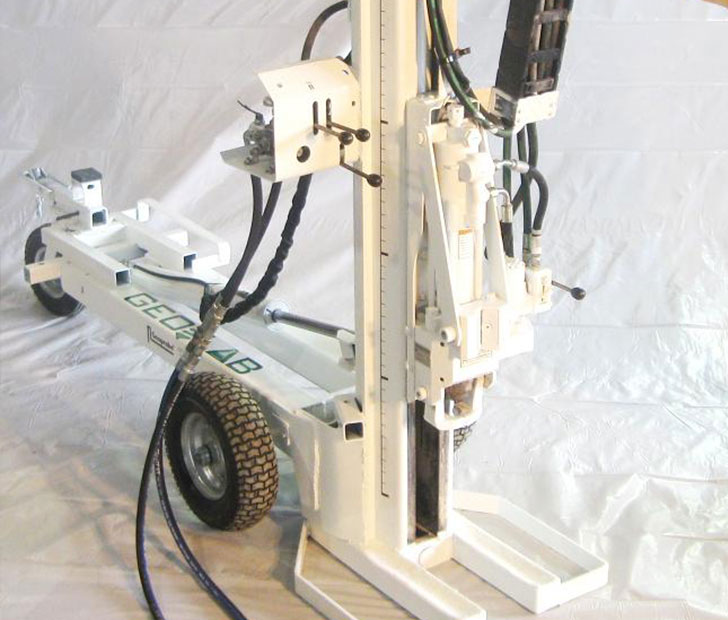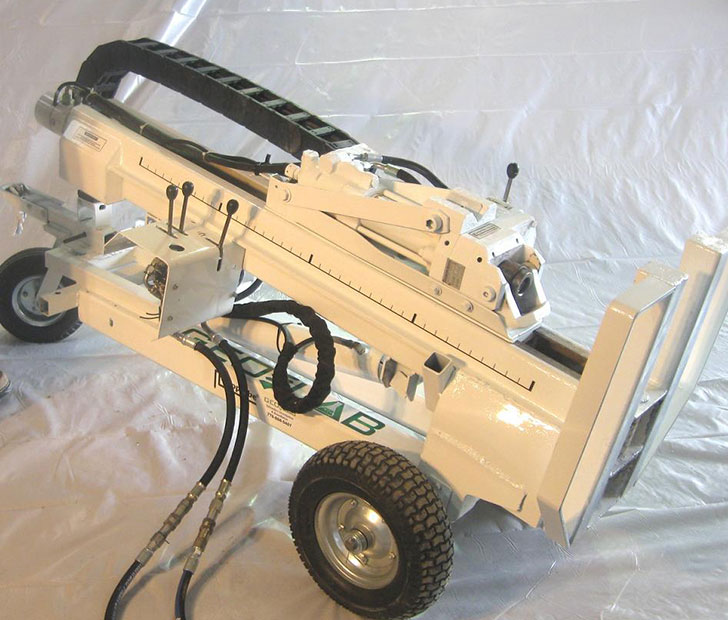 The small size will get the unit exactly where our customers need samples, and the powerful GH42 hammer will achieve the sampling depths required in most situations. This unit can advance standard Geoprobe soil and groundwater samplers (Dual-Tube, Macro-Core, ScreenPoint 16) or modified samplers for low-clearance sampling locations. Listed here is a summary of the capabilities and benefits of using this portable unit:
Small size allows access through 32" doorways, and tight maneuvering once inside.
Low-clearance sampling with ceilings as low as 8 ft.
Remote hydraulic source allows for fume free operation in small indoor spaces without the need for venting.
---
Injection Equipment
Geo Lab's equipment list is extensive with a variety of pumps, down-hole injection tools, mixing tanks, check valves, pressure gauges, flow meters, manifolds, and hundreds of feet of delivery hose. All trucks, tanks, trailers and pumps are interchangeable so the best combination can be utilized to provide the optimal delivery method for specific remediation materials.
Pumps
Our wide array of 'newer-model' pumps allow us to inject with minimal job disturbance due to mechanical issues. Whether it is a low or highly viscous material, we can match a pump to any fit any injection project that may arise.
Ingersoll Rand chemical compatible air powered diaphragm pumps capable of delivering up to 8 gallons per minute at 100 psi. Used primarily with low viscosity materials and Chem-Ox remediation projects.
ChemGrout injection system: This is a completely self contained unit that incorporates a 44 gallon capacity vertical shaft paddle mixer and a single acting piston pump. This pump is capable of pumping high viscous material at rates of up to 15 gallons per minute and developing pressures of up to 700 psi.
Geoprobe® GS2000 injection machine: This machine is designed to pump high viscosity materials such as HRC and can deliver remediation material at a rate of 3.6 gallons per minute with pressures reaching up to 1800 psi.
Tooling
Geo Lab provides a variety of injection tools to choose from when developing a strategy for an in-situ remediation project. Whether it is "top down" or "bottom up", high or low viscosity, Geo Lab can provide the correct tool for any remediation injection project.
Geoprobe 2.25" injection probe: Four horizontal injection ports allow for 360 degrees of influence of remediation materials. Equipped with a check valve system to keep subsurface materials out of the injection tool string and helps prevents back flow of injection material. Designed for "top down" or "bottom up" applications.
Geoprobe 1.5" pressure-activated injection probe: >Also allows for "top down" or "bottom up" injection, and allows remediation materials to be injected laterally into the subsurface.
ESP 1.5" ported retractable injection tool: This tool is driven to the target depth, then, retracted to expose a 12" section of injection ports. The upper and lower halves of the tool seal off the zones above and below the injection ports allowing injection of material into the desired zones. Used for bottom up applications.
ESP 1.5" injection tip: Simple "bottom up" expendable point holder when equipped with a check valve provides an excellent option for a wide variety of remediation material.