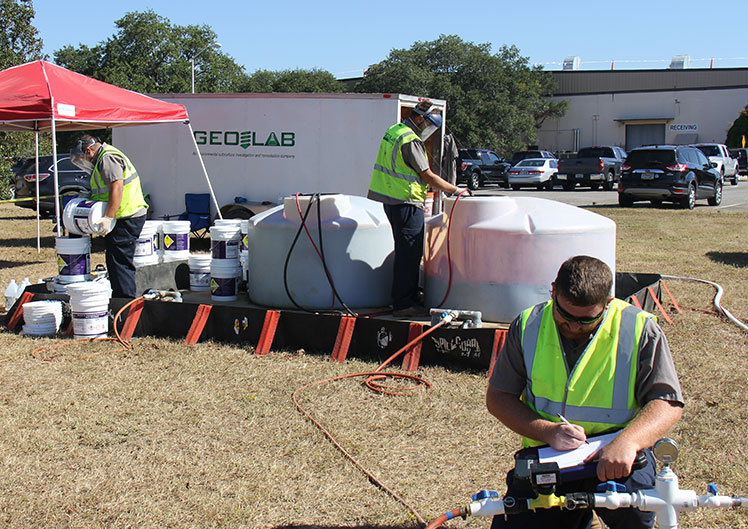 Injection
For more than a decade, Geo Lab has developed and implemented in-situ injection systems for successful remediation of dozens of sites. Our extensive experience involves subsurface application of various chemical and biological injection materials to reduce contaminant levels by means of Chemical Oxidation, Reductive Dechlorination and Bioremediation. Application involves pressurized injection through either temporary Direct-Push points or semi-permanent injection wells. Although Geo Lab specializes in material application, we are available to assist in the design process, and assist with the selection of the most appropriate injection material, given historical site data and cleanup goals. We then tailor an application method that best suits the site lithology and selected material, and successfully meets or exceeds targeted goals.
Injection Platforms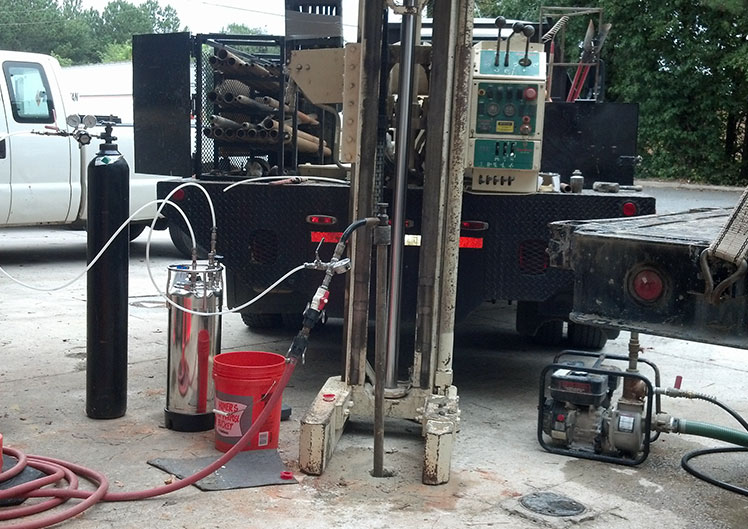 As site lithology and remediation designs change, we recognize the need to prepare a mixing and delivery method suitable for each project. The pump selection, tank configuration, mixing/dilution method, and injection lines are tailored to suit the lithology of the site and material type including its viscosity, reactivity, general handling concerns, and overall quantity. Our injection systems are designed with simplicity in mind, which means less maintenance, repair, and downtime in the field, and in return results in lower operation costs to our clients.
Geo Lab maintains a fully enclosed ISCO ready injection trailer which has been primarily deployed to apply activated sodium persulfate. It is outfitted with two, 250 gallon mixing tanks, multiple chemical compatible air powered diaphragm pumps and air compressors.
Using high pressure/high volume piston pumps, we construct mobile and stationary mixing and delivery systems to handle higher viscosity materials used on sites with chlorinated contamination issues. Examples of these materials include EHC®, EHC-L®, Terrasystems SRS™ (EVO), HFCS (high-fructose corn syrup), 3DMe™ (HRC Advanced®), and many others.
View more information on our Injection Tooling options.